62 West Wallaby Street, Wigan, Lancashire is the home of Wallace and Gromit.
Although the town is real, the address clearly is not. In The Wrong Trousers, the pile of letters Gromit picks up while looking for birthday cards sports the postcode of WG7 7FU, although a check of the Royal Mail's Postcodes Online service [1] fails to find the corresponding West Wallaby Street address. Furthermore, Wigan postcodes begin with WN and not WG, although this could be a reference to Wallace and Gromits' names. In fact, WN7 is the postcode area for nearby Leigh.
At the beginning of the feature-length film The Curse of the Were-Rabbit, when Wallace and Gromit are getting into their Anti-Pesto van, Wallace is seen pressing the ignition start button. In this shot, "A-Z Wigan" can be seen on the dashboard, further proof that the duo live in the town.
The street address is also mentioned in (at least)
A Grand Day Out
and
Shopper 13
, being the return destination for both trips.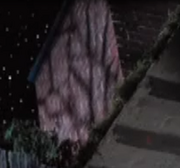 Trivia