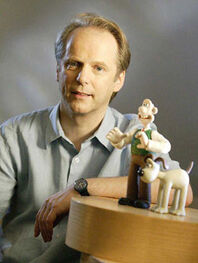 Nicholas Wulstan Park (born on December 6, 1958) is a four-time Academy Award-winning English film maker best known as the creator of Wallace & Gromit.
Nick Park was born in Preston, Lancashire, England, and attended Cuthbert Mayne High School (now Our Lady's Catholic High School). He studied Communication Arts at Sheffield Polytechnic and then went to the National Film and Television School, where he started making the first Wallace & Gromit film, A Grand Day Out.
In 1985, he joined the staff of Aardman Animations in Bristol, where he worked as an animator on commercial products with his partner. Along with all this, he finally completed A Grand Day Out, which was released in 1989.
Two more Wallace and Gromit shorts, The Wrong Trousers and A Close Shave, followed, both winning Oscars. He then made his first feature-length film, Chicken Run and Peter Pan co-directed with Aardman founder Peter Lord. He also supervised a series of "Creature Comforts" films for British television in 2002.
His second theatrical feature-length film and the first Wallace and Gromit feature, The Curse of the Were-Rabbit, was released on October 5, 2005, to much critical acclaim. The film was rewarded with the Best Animated Feature Oscar at the 29th Annual Awards.
In September 2007, it was announced that Nick Park has been commissioned to design a bronze statue of Wallace and Gromit, which will be placed in his home town of Preston.