Shaun is a small sheep featured of the Wallace and Gromit short A Close Shave. He also stars in the spin-off television series Shaun the Sheep.
Appearance
Shaun is a sheep so he has white fluffy wool, black skin and black ears that stick out the side of his head. later on in A Close Shave he gets some of his wool shaved of and turned into a jumper so for the rest of the episode he wears his woolly jumper.
Personality
His personality in Wallace & Gromit is different than it is in the Shaun the Sheep series as in A Close Shave he is timid and shy but in Shaun The Sheep he is independent and a leader.
History
Wallace and Gromit
Shaun first appeared in A Close Shave as one of the sheep in Wendolene and Preston's flock. Shaun breaks free of the flock and finds his way into 62 West Wallaby Street. Wallace and Gromit take the little guy in and, after a cleaning in Wallace's Knit-O-Matic contraption, the small sheep is shorn; as a result Wallace names him "Shaun".
Shaun later appeared in the Cracking Contraptions series, appearing in the Shopper 13 short as a probe to rescue a wayward wheel of cheese. But instead he just ate it.
Shaun the Sheep
Shaun is shown as a leading member of a flock of sheep in the television series Shaun the Sheep. Shaun exhibits human intelligence, creativity, and behaviour in the barnyard. His antics often lead to comic mayham, with the little sheep having to avoid the flock's sheepdog Bitzer and the farmer. Shaun is very good natured toward his fellow sheep. He is the one who usually gets the rest of the flock into trouble, but he also gets them out of trouble, too. This is very different from his childish behavior in A Close Shave.
Gallery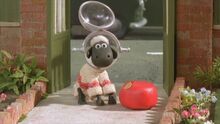 Trivia
Shaun's bleat is higher pitched in A Close Shave than in Shaun the Sheep, perhaps due to him maturing physically as well as mentally between the two shows.
It is unknown if the flock of sheep in A Close Shave is the same flock that appears in Shaun the Sheep, as notable flock members such as Timmy, Timmy's mother, and Shirley are not present in A Close Shave.
Multiple plot holes are created due to the changes in character and backstory done to Shaun from A Close Shave to Shaun's TV Series
Shaun was nicknamed "Young Shaun" by Wallace in an audiobook of A Close Shave.
One of Shaun's "A Close Shave" Models was sold by Heritage Auctions in 2018 on auction, it later became owned and preserved by YourProps user HollyWood History. The Model was one of the few surviving Models of Shaun from A Close Shave as most were destroyed during the Aardman warehouse fire in 2005
Another Model of Shaun from A Close Shave also survives to this day, that being Shaun after he comes out of the "Knit-O-Matic" it is pictured on Aardman's Website on the official page for A Close Shave
Various Other Models of Shaun from his TV Series and his two feature films have been displayed at various events and others permanently. For Example one model is on display at the Children's TV exhibit a mshed Bristol.
Shaun appears as a playable costume in a video game titled Super Mario Maker