We're Getting Mutants in the MCU - The Loop
Play Sound
The train, or toy train is a vehicle which featured in the film, The Wrong Trousers.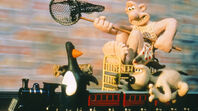 The Wrong Trousers
In The Wrong Trousers, a toy steam locomotive in a red livery, which pulls a mixed traffic train was first seen when Gromit is waiting beside the track to let it pass-by, after he collects several letters from the door. The red livery toy steam locomotive is referred to as the 8:45, (a quarter to nine in the morning)
Later, another toy steam locomotive in a dark green livery, referred to by Wallace as the 9:05, (five past nine in the morning) was pulling by with Gromit's collar and lead for the Techno Trousers from the very end of the train. Wallace gave the lead and collar as a present for Gromit's birthday.
Towards the end of the film, Wallace and Gromit were trying to catch Feathers McGraw, the penguin who is trying to escape riding on another toy steam locomotive in a dark blue livery, referred to in the audiobook as the 22:15, (a quarter past ten in the evening) because he stole a diamond from a museum using the Techno Trousers with the red crash helmet on Wallace. During the chase and after Wallace went out of the Techno Trousers, McGraw uncoupled the 22:15 locomotive and tender from the carriages, which Wallace and Gromit where on, followed by the penguin's attempt to divert the duo to the track via a switch which lead them to a track which was not completed. Luckily Gromit put some spare track pieces on to the unfinished route, and lead them back to McGraw. As Wallace was trying to catch McGraw, he unfortunately caught the 22:15 locomotive instead. Meanwhile, Feather McGraw who was sitting on the 22:15 engine's tender was rolling toward an uncontrolled Techno Trousers, which is slowly crossing the track with Wallace and Gromit catching up with him at a parallel track. McGraw bump onto the trousers' foot and send himself flying across the kitchen, where the distracted Gromit who is still laying tracks while looking up on the flying penguin, crashed onto the kitchen's worktop derailing the train. He caught Feather McGraw in process when he fell right into an empty milk bottle held by Gromit. As Wallace came in on another toy train carriage cheering.
Trivia
During the chase scenes, McGraw and Gromit were passing a railway signal which resemble a Hornby OO-gauge signal.
There is a scene in The Pirates! In an Adventure with Scientists! When Number Two came into the Pirate Captain's room to report there was a ship sighted, there is a model train set layout on the floor which resembles the one in The Wrong Trousers. It is unknown if this is one of the train models that were reused from The Wrong Trousers.