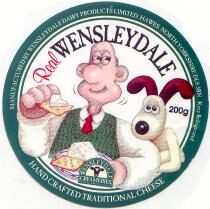 Wensleydale cheese is a cheese produced in the town of Hawes in Wensleydale, North Yorkshire, England. Wensleydale cheese was first made by French Cistercian monks from the Roquefort region, who had settled in Wensleydale. They brought with them a recipe for making cheese from ewe's milk. The Wensleydale pastures give the cheese the unique flavour for which it is renowned. Good Wensleydale has a supple, crumbly, moist texture and resembles a young Caerphilly. The flavour suggests wild honey balanced with a fresh acidity.
In the 1990s, sales had fallen so low that production was at risk of being suspended. Fortunately, inspiration struck when in 1995, Wallace proclaimed Wensleydale as his favorite cheese in A Close Shave. Wensleydale had previously been mentioned by Wallace in A Grand Day Out, as he wonders if the moon is made from the substance. Animator Nick Park said he picked the cheese solely because it had a good name that would be interesting to animate and was unaware of the company's financial difficulties.
After the release of A Close Shave, sales of Wensleydale began to rise. The company avoided bankruptcy and credits Wallace and Gromit for saving the brand. In 1995, the company contacted Aardman Animations about a licence for a special brand of "Wallace and Gromit Wensleydale", which has proven to be an enormous success. In 2005, in conjunction with the release of The Curse of the Were-Rabbit, the company released Curse of the Were-Rabbit branded cheese. Wallace and Gromit continue to appear on Wensleydale cheese to this day.

There are different types:
Mature Wensleydale is a harder, more highly-flavoured version of the Real Yorkshire Wensleydale
Extra Mature Wensleydale the strongest Wensleydale cheese, matured for nine months
Blue Wensleydale has blue veins and is produced in range of sizes. It is highly flavoured but less salty than the classic British blue Stilton
Oak Smoked Wensleydale is cold smoked to produce a cheese with a special tang and texture
Real Yorkshire Wensleydale is usually shaped into a variety of weights moulds ranging in size from a small flat disc known as a "truckle" that is highly pressed, and preserved in wax, to several larger cheeses,it is a mild cheese with an acidic-honeyed flavour
See also
External links
Community content is available under
CC-BY-SA
unless otherwise noted.